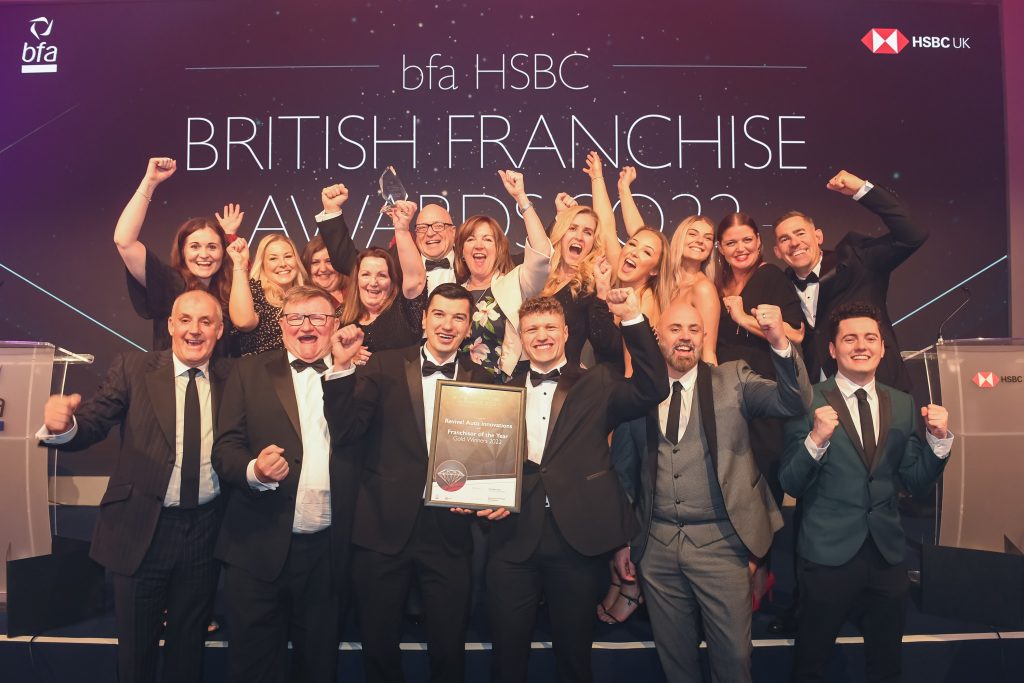 Revive! delivers a record 2022
Revive! UK saw extraordinary results throughout a volatile 2022, culminating with being named the UK's best franchise by winning Franchisor of the Year (Gold) at the bfa HSBC British Franchise awards.
The year started with high hopes as 2022 began as a "non-Covid" new norm, but quickly multiple external factors combined to create further economic uncertainty. Despite this, Revive! quickly adapted to the challenges and set about delivering a record year with multiple sales records and finishing the year with an outstanding £17.3M network sales.
Success has been four-fold for Revive!
The brand has seen success through the bfa HSBC Franchisor of the Year Gold award, representing the best in franchising in the UK.
Internal recognition through Investors in People Platinum – an award that only 3% of companies achieve.
Franchisee recognition through a second consecutive year of five star satisfaction leading to the Best Management Franchise at the WorkBuzz Best Franchise Awards.
Technical Excellence through achieving 25,000 Trustpilot reviews, rating Revive! at 4.9 / 5
Franchisee success
Hugely important to the network are the Revive! franchisees, who share in the success of the business. Without a strong united network, it would not be possible to achieve these accolades and the Revive! network have shown their mettle in delivering a strong year.
Multiple profitable million-pound franchisees continue to dominate local territories. Revive! franchisees have also been recognized for their efforts, with four shortlisted for local or national awards, and the Trafford team winning Small Business of the Year at the Greater Manchester business awards.
Managing Director (Sales and Marketing), Mark Llewellyn, stated: "Franchise success coupled with employee engagement is hugely important to Revive! and our technician numbers continue to grow because they know that all of our people are important to us. At Revive! it is our people who have made 2022 such a huge success and we are excited about the opportunity for further growth in 2023."
Revive! is the UK's leading Smart Repair business operating a network of franchises supported by centrally-employed technicians. Revive! works in the growing segment of minor damage on cars, repairing bumper scuffs, panel scratches and alloy wheels. Revive! has the largest network of accredited technicians in the UK.
For more information, go to www.revivefranchise.com/the-business/.