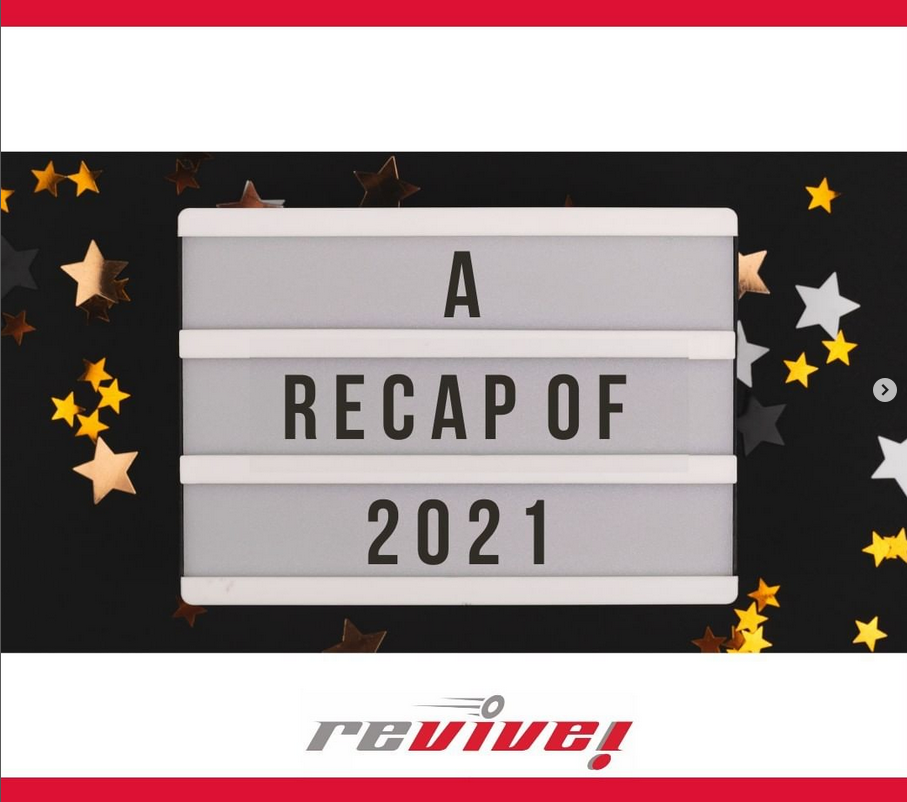 As our franchise goes from strength to strength, every year brings more achievements for Revive! to celebrate and 2021 was no exception despite the challenges presented by the pandemic.
Here's a look back over twelve months packed with highlights in a year that may go down as one of the best in our 16-year history so far!
Once again for the fifth year running, we ranked in the top 25 of the Elite Franchise Top 100 Franchises.
We launched a record number of new franchisees in 2021, following our rigorous selection process to cherry -pick ten of the best candidates out there. And as Tony Barker from Revive! Bedford put it, from day one the Revive! culture 'shines through', with every member of our head office team living our four simple company values of Integrity, Outstanding Customer Service, Technical Excellence and Unity – giving new recruits the confidence that their future with Revive! will be bright.
Dealerships and private motorists in Belfast, Gloucester, Southend, Wigan, Bedford, Cardiff, Slough Uxbridge, Aberdeen and Farnham can now access the Revive! five star rated Trustpilot service that won us the Silver Award for Customer Service Relationships in the 2021 Business Brilliance Awards. We faced stiff competition from all types of businesses across the UK in this category which focussed on exceeding customer expectations and providing industry leading standards of service, and innovation around customer experience.
Recognition came too in April 2021 for our managing director, finance and operations, Terry Mullen. She was named as one of the top influencers in the automotive bodyshop industry by the Auto Body Professionals (ABP) Club. Each year the APB compiles a list of the top 120 names who are 'having the greatest influence on our industry and are recognised as having an effect on their business'. Terry plays a major role in the day to day running of our business and was the driving force behind Revive! achieving the rare and much coveted Investors in People Gold Accreditation following the company's recent IIP re- assessment.
Only 16% of all companies holding IIP status achieve the coveted Gold status which puts Revive! in the top tier nationwide.
Terry also project managed the design and build of our new head office complex in Rugby which we moved into in 2020 as soon as COVID restrictions allowed.
They say if you want to know about a franchise ask its franchisees which is exactly what we did in May 2021 by commissioning independent franchise consultancy WorkBuzz to survey our owners.
And the result? We were awarded 5 Star franchisee Satisfaction status, after outperforming the survey's benchmark figure in almost every category.
The voluntary online survey invited Revive! franchisees to comment on six key dimensions: training and support, leadership, the franchise system, value and reward, culture and relationships and general satisfaction. Revive! achieved an overall satisfaction percentage of 85%, with leadership (89%), training and support (88%) and general satisfaction (86%) achieving the highest scores.
The highest score of 100% was achieved in the areas of 'going the extra mile' and initial training received.
Scores of over 90% were recorded on questions about business pride, trust, marketing support, product confidence, peer support, recommending the brand to others and delivering the opportunity to expand their business.
And support for our franchisees was paramount as we faced the challenges of the pandemic together. We immediately suspended all franchise management charges and at the same time ensured national accounts payments were collected and paid out as quickly as possible to the network to help cashflow. Whist the franchisees focused on keeping their businesses running, we did the research on available support, how to access it and, as we manage bookkeeping and payroll for most of the network, in many cases completed all of the furlough paperwork on their behalf. As a direct result of the pandemic, private motorist work increased. Our core 'we'll come to you' mobile proposition enabled us to carry out work safely outdoors, socially distanced without the customer having to venture out to take their car to the bodyshop giving many franchisees record sales months.
The pandemic also gave us Zoom! Whilst many people had resisted video conferencing in the past, it became a life saver during those long lockdown months. In addition to regular Zoom business meetings, we also held some fun, social sessions with the network to help keep up morale and stay positive.
So, what is the key to our ongoing success? We'll leave the last words to two of our new franchisees:
Said Kyle Thorburn, owner of Revive! Slough: "When you speak to people within the company and others involved with the company, there was just something that said – this is the place to be. A perfect fit.
"It's just like finding your partner in life. When you talk to them and spend time with them you just know that this is someone you can get on with, you can relate to, you can work with. There are no hidden agendas, no smoke and screens.
Added Graham Syzmanski, owner of Revive! Wigan: ""There was no hard sell. I realised very early in in the process that it was as much about whether I was right for Revive! as it was 'Is Revive! right for me?'.
"That really impressed me – there had to be a fit for Revive! too – it wasn't just 'give us your money'".