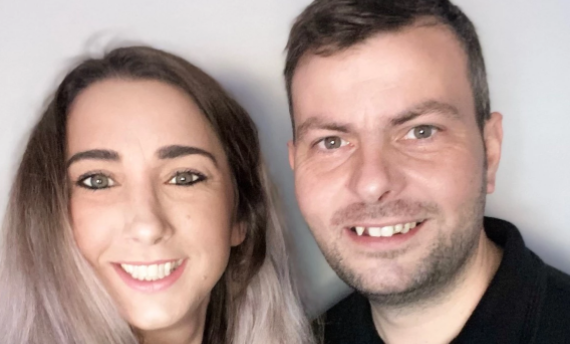 When technician Paul Morris turned up eight years ago to repair a customer's car bumper little did they both know how life-changing the visit would turn out to be.


It was love at first sight. Now the couple have two sons and are planning a wedding in summer 2022. They've also gone into business together, becoming the new owners of Revive! Birmingham North following its re-sale. Paul is managing the business day to day and Leanne with her background in financial services is managing the finances and marketing.
Having worked as a Revive! technician, Paul knew how successful owning a Revive! franchise could be. He trained to be an automotive refinisher at college and then worked at several bodyshops before joining Revive! in 2014.
But he didn't want to be technician for the rest of his life. With a growing family to support and an ambition to be his own boss, when the opportunity to buy Revive! Birmingham North came up Paul and Leanne jumped at the chance. Both new owners grew up within the territory so they know the area well.
Explained Paul: "As I was already working as a Revive! technician I had a good an understanding of how the business works. We like the knowledge and integrity the company adheres to along with the constant improvements to keep up with the evolving industry."
"It's an industry I have always been in. Revive! is a renowned brand so it was an opportunity on our doorstep we just couldn't miss out on."
Commenting on the completion of the re-sale Cathryn Hayes, franchise director of Revive! said:
"Paul had already been identified as one of our top technicians, so to have a new owner with such experience and long serving commitment to the Revive! vision and values couldn't be better! Paul and Leanne impressed us right from the beginning of this process with their complementary business skills and shared desire to grow Revive! Birmingham North into a much bigger business. We welcome them to the Revive! network and wish them every success."
The re-sale of Birmingham North straddled the outbreak of the Covid pandemic and subsequent lockdown, but this didn't hold up the process. Said Paul: "The power of technology enabled us to complete the process with no issues. Having interviews with the directors over Zoom was great as it meant we were still able to 'meet' the team and go through the process smoothly."
Training too was all by Zoom, but as Paul had already completed the full training as a Revive! technician this wasn't an issue. He continued: "The sessions have always been at a time to suit all parties and everyone has been great. Each person we spoke with is so knowledgeable and extremely helpful, they went out of their way to make sure we had the information required to be a success."
"Having regular interaction with people at head office has been lovely. Its shows that Revive really do care and that their support is always there and ongoing."
The couple currently have three vans on the road with plans to add a fourth as soon as they have recruited another technician. Their aim is to add a van to the fleet each year for the next two years to extend their service across the large territory.
Said Leanne: "We want to expand the service to reach every corner of our territory. The busines has so much potential for growth our aim is to get our name and reputation known across the area."