Mark Llewellyn, Managing Director (Sales & Marketing) of Revive! UK challenged himself to run 5K everyday throughout April to raise money for the Motor Neurone Disease Association (MNDA).
Mark completed his grueling challenge and covered over 150 miles in his final running distance!
As his job takes him all over the UK visiting our Revive! franchisees and suppliers, he made sure he packed his trainers and running gear wherever he went across the country.
"As a company giving back is very important to us, and to date we have raised over £25,000 for children's cancer charities and Motor Neurone Disease Association.
I have always enjoyed running and am back into it again after a couple of years out because of injuries. After running a few 10K runs on my own I thought how could I challenge myself and potentially raise money for the MNDA too? I came up with the idea of a repetitive challenge that would mean I had to be focused and well organised whilst challenging me both mentally and physically.
The thought of running 5K isn't scary, but 5K every day needed serious planning. I did park runs on Saturday mornings with the family and really enjoyed the variety of running all over the country on what I called my 305K30D challenge."
A former professional rugby player, Mark's final run was in Rugby ending at the iconic rugby ball statue: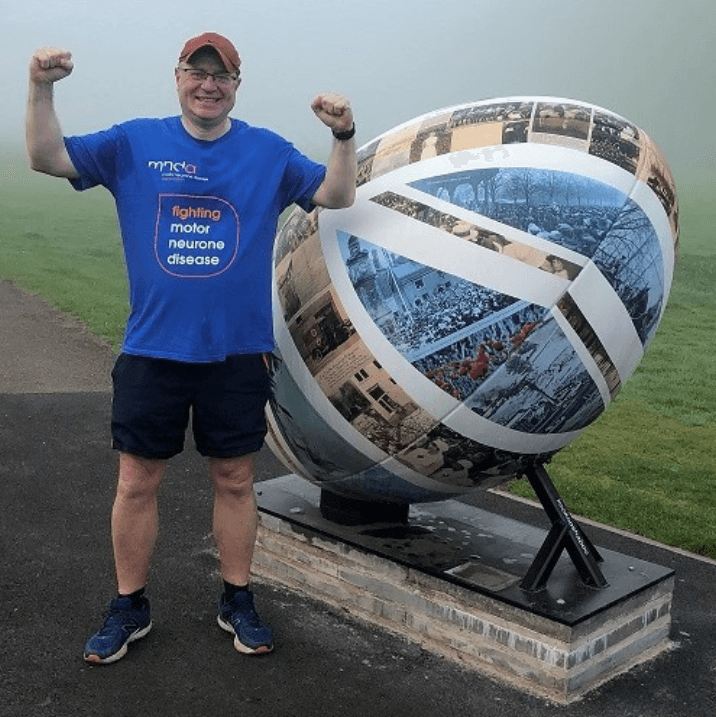 So far he has raised nearly £1300 and donations can still be made via Mark's JustGiving page: https://www.justgiving.com/fundraising/Mark-Llewellyn7.
"I ran for MNDA because a good friend and the brother of my business partner has unfortunately contracted Motor Neurone's disease; a disease that affects the nerves in the brain and spinal cord and eventually leads to the weakening and eventual wasting of the muscles. It's a terrible disease particularly for someone like Kev who was a professional sportsman being a really good rugby league player in his younger days.
I'd like to thank everyone who has donated so far. Anything we can do to support the research into this terrible disease would be fantastic."