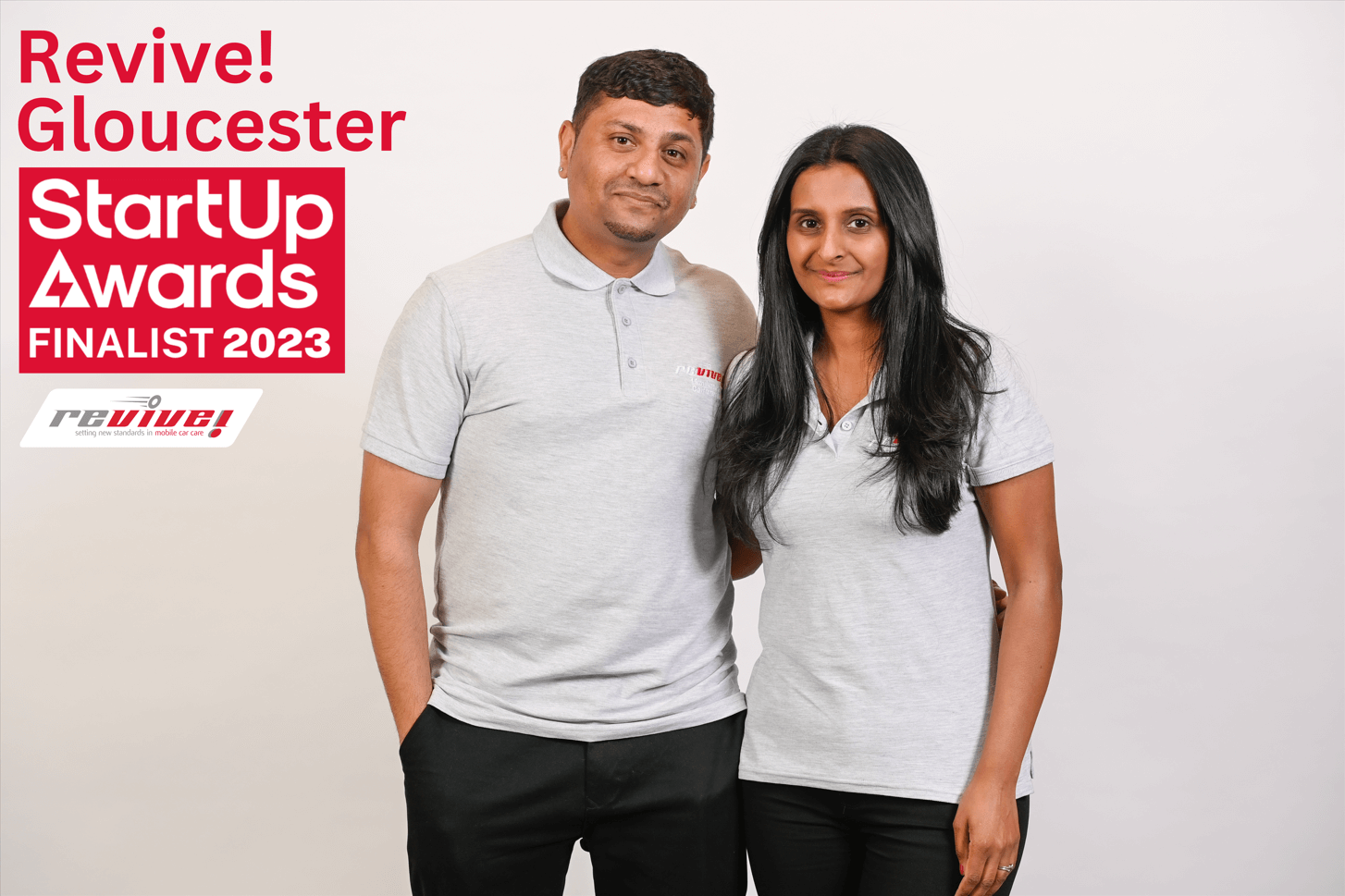 Husband-and-wife led franchise, Revive! Gloucester, has been shortlisted as one of the best newly-launched businesses in south-west England.
Owned and run by married couple Jai and Reena Patel, Revive! Gloucester is a finalist for the highly-competitive Consumer Services category at the South-West England Start-Up Business Awards, with winners set to be announced at a ceremony at the Propyard in Bristol on 15 June.
Judges were impressed with Jai and Reena's focus on delivering convenient repairs with an outstanding level of customer service.
This has translated into strong financial results as Revive! Gloucester is the fastest-growing business in Revive!'s 50+ UK-wide franchise network to achieve an annual turnover of £240,000 having done so in their first full calendar year.
And if customer reviews are anything to go by, this convenience-driven approach has been hugely popular among Gloucestershire motorists, with 98 per cent of the business's reviews rated as 5-stars (excellent) or very good (4-stars) on TrustPilot.
This is not the first time Jai and Reena have been shortlisted for an award, having won the 'Best Newcomer' accolade at Revive!'s 2021 annual conference, a prize given to new franchisees who have achieved rapid financial growth and excellent business practice within the first year of trading.
Jai Patel said: "There are so many excellent start-ups in the Gloucestershire area, so to be nominated for this award is a real honour. Our team has worked tirelessly to achieve this feat, and I look forward to seeing whether we get our hands on the prize at the ceremony in June."
Launching the business hasn't been without its challenges, as the company was initially set to launch in March 2020 – just before the COVID-19 pandemic – meaning the business finally started trading over one year after Jai and Reena had initially planned, in 2021.
Reena Patel added: "Just as we were about to launch the franchise in early 2020, we received a call from our bank to say that the business loan we had applied for was to be put on hold because of the economic uncertainty caused by the pandemic.
"When we finally started the business the following year, the market, and the world for that matter, was a completely different place. Starting a business in such tough times was a real challenge, but I'd like to think we have proven that you can make a success of a business even when the odds are against you."
Terry Mullen, managing director (finance and operations), at Revive! UK commented: "Jai and Reena's story is an inspiring one. Despite a tough start to their business journey, the couple have worked hard as business owners to achieve rapid success. Jai and Reena compliment each other's strengths and weaknesses to form one fantastic team. I wish Jai and Reena the best of luck at the upcoming Start-up Business Awards."
To learn more about how you can become an award-winning Revive! franchisee, visit https://revivefranchise.comthe-business/.