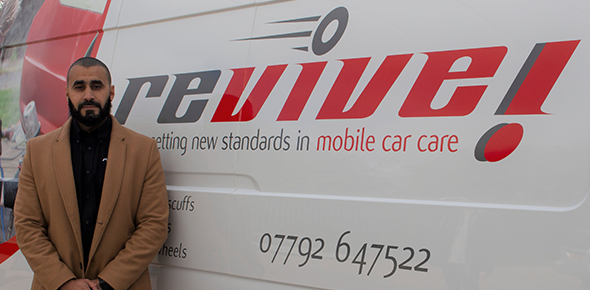 It was Revive!'s five-star Trustpilot reviews and string of industry awards that caught Hicham Bouissa owner of Revive! Uxbridge's eye.

Despite being involved in the motor trade industry all of his working life, initially within the car rental world and then claims management, Bouissa didn't know much about SMART repair before exploring the Revive! franchise opportunity.

He explained: "I'd had a taste of being my own boss as I was self-employed as a loss adjuster but always wanted to work for myself in an industry I knew well and loved."

In 2020 after 13 years in the insurance industry, he began to think seriously about his future and started to explore franchises in the automotive sector.

"I looked at Revive!'s website and saw all their awards and Trustpilot scores. I was really impressed to see that the company is listed in the top ten UK franchises and has won British Franchise Association awards. Going down the franchise route made good sense – the whole process of setting up a business is so much simpler as all of the groundwork has already been done for you and you have the back up and support from a very reputable company."

Eager to get the application process started, he was devastated when the lockdown forced everything to a halt.

"I had to wait patiently for another three to four months, but as soon as I was able to apply I did – and was contacted instantly by the franchise director.

"I was excited to get started and passionate about the prospect of setting up Revive! Uxbridge. I have always lived in West London so I was over the moon when I learned that the territory was available. Wherever my technician is I am only a short drive away."

But one thing preyed on his mind. Would he have to paint cars? He explained: "I can't even do basic DIY at home – it's a nightmare! I was so relieved to find out this wasn't an issue. The team at Revive! made it very clear that my focus would be on building the business – not working in it, although I have already learned a lot just from watching my technician work."

During his two week's training at the Revive! head office complex in Rugby, the business development team was busy setting up the Facebook and website pages ready for the launch of Revive! Uxbridge, and setting up bookings for when Hicham and his team returned to their territory.

"Knowing I already had bookings waiting for me made it very real" said Hicham, "but the training provided for owners and their technicians at the Revive! Academy, backed up by ongoing support meant I could go to Uxbridge and launch my business with confidence."

A self-confessed travel fanatic, Hicham is looking forward to the flexibility that running his own business will bring.

"Once I am established, I will then think about bringing in admin staff so I can enjoy more travelling with my wife and children. Building Revive! Uxbridge is my priority and I am looking forward to the lifestyle it will give me."