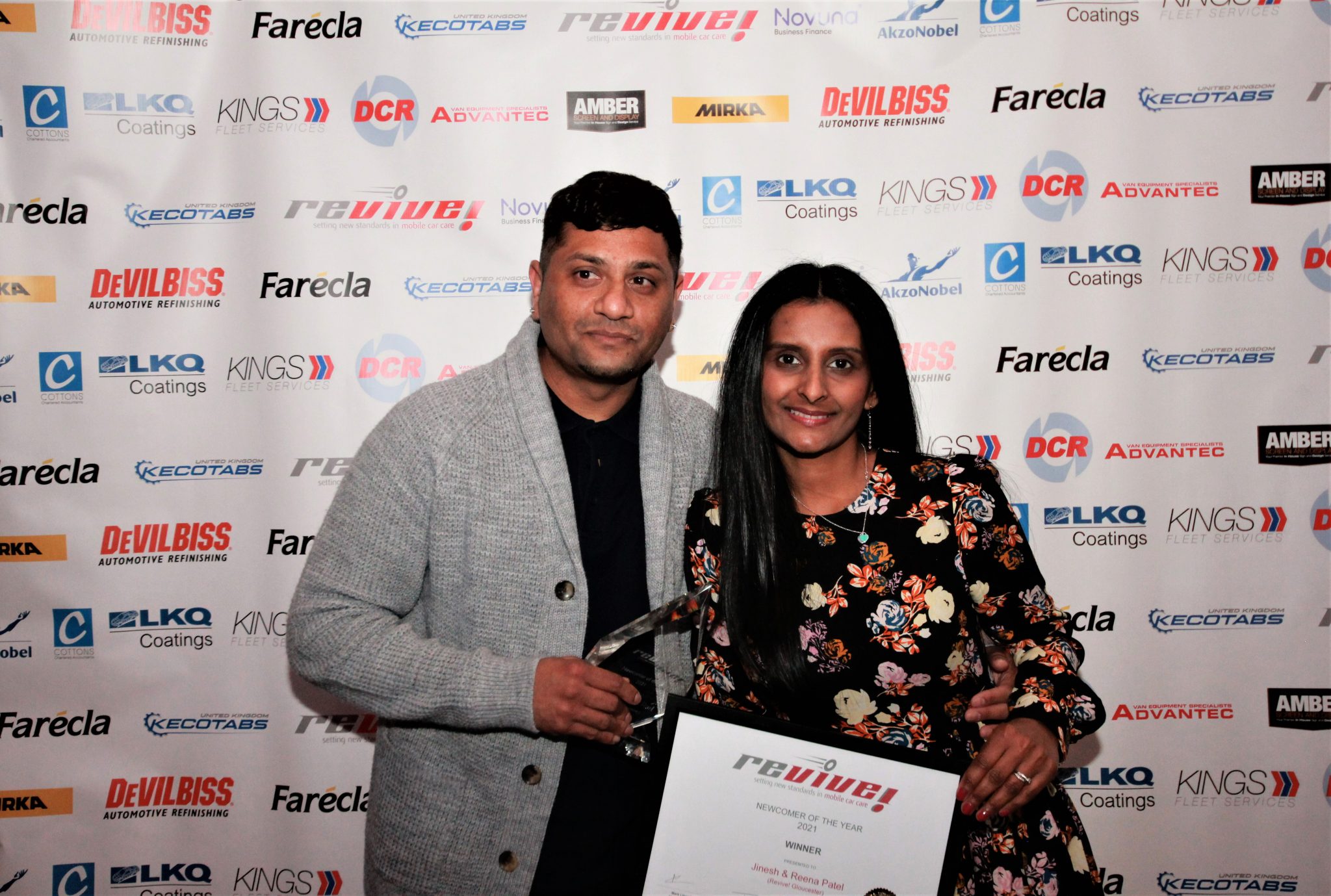 Husband and wife team, Jinesh and Reena Patel, were able to enjoy their first holiday in three years thanks to the healthy work life balance they have achieved since launching Revive! Gloucester twelve months ago.
As a manager of fast-fit centres, Jinesh often had to work from 7am – 7pm each day and most weekends, so could never get a whole week off. Now, running their own business, the couple finally found time to get away to Egypt in June for some time in the sun.
Whilst Jinesh was keen to follow his heart and set up their own business, Reena took a bit more persuading. Twelve months on, it is Reena who is the most enthusiastic, admitting: "I have absolutely no regrets – in fact, with hindsight we should have started up with three vans, rather than two! At the beginning I did have doubts, so it was really good to get through the first year and with a profit too."
The couple put their success down to hard work and their complementary skill sets. Jinesh brings his knowledge of the motor trade and management experience to the partnership, and Reena, with a career spent in financial services, provides the HR, finance, payroll and marketing expertise.
In the early days of Revive! Gloucester, the aim was to build up cash in the business account. Said Jinesh: "Retail work, as well as National Account work, was our priority at the beginning. We didn't withdraw dividends from the business for the first few months so we could see exactly how the performance of the business had an effect on our accounts. It's quite difficult when you first start a business to get your head around that. But eventually we did and were able to see that we could take dividends and have a holiday!"
The highlight of the year for the Patels was winning the 'best newcomer award' at their first Revive! Annual Conference in March.
Said Jinesh: "It was brilliant to win that award and also achieve a best sales month this year too. We've been pretty busy almost from day one thankfully. Initially, I went in-person to a lot of dealerships and it grew from there. At the beginning we advertised quite a bit, but now a lot of our retail work comes from word of mouth and that's thanks to our technicians carrying out the repairs to an excellent standard."
But it wasn't all plain sailing. The year has had its up and downs, mainly around staffing, but Revive! Gloucester has been supported throughout by the team at Revive! head office in Rugby and the Revive! network of franchisees.
Said Reena: "It doesn't matter how many questions you ask. Right at the start, Franchise Director Cathryn Hayes said Revive! will support us on our journey, and they do. That commitment to support runs through the veins of everybody at head office. I don't know how they can support so many of us in the network, but the way they support us is commendable."
When it came to recruitment, Reena's HR skills came to the fore – they kept a database of CVs so were able to call back previous applicants. Explained Jinesh: "Once we realised we needed more staff, we could re-interview the technicians who we had identified as having potential, but would need some investment from us to get them where they needed to be. Two of our current employees had applied when we first started, but were taken on later and have turned out to be the high calibre technicians we thought they could be."
The quality of their technicians has been recognised by Revive! UK as they are now featured regularly amongst the network's top ten performers.
Said Reena: "It was a real surprise but also a real delight to hear from Revive! UK that our technicians were up there with the top techs in the whole network. It's good to know that we have high performing staff."
All of the objectives they set for their first year have been met and they are now busy planning the next stage of Revive! Gloucester's path to growth.
Looking to the future, their ultimate aim is to have five vans and a workshop, but for 2023, the plan is to employ another technician, get to four vans – and continue to enjoy longer holidays!
To learn more about how you can become a Revive! franchisee, click here.