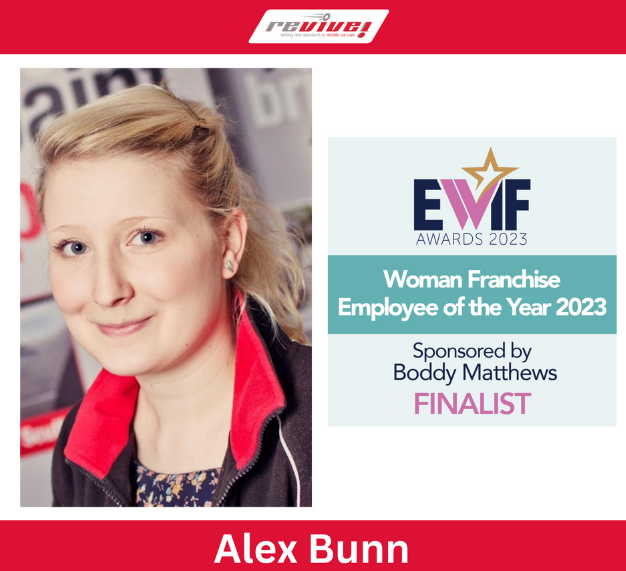 Alex Bunn  – EWIF award finalist
We were delighted to learn that our Franchisee Training Manager, Alex Bunn, has been announced as one of the finalists in the Encouraging Women into Franchising (EWIF) awards.
It is fabulous to see Alex get this wider recognition after a full-on year where she has pulled all the stops out to completely overhaul our training programme.
At the recent Revive! UK conference, Alex won our Head Office Support award, nominated and voted on by our franchisees.
Some of their comments included:
"If you cut Alex in half, it would read "Revive!" through the middle – she consistently demonstrates all of the values we promote as a brand. Positive, helpful, enthusiastic, committed, and willing to go the extra mile."
"Alex has taken on the huge task of being the first point of contact, problem solver and organiser for the franchise network, and she has impressed everyone with great ideas and a willingness to step in and advise."
What a superstar, congratulations Alex!
Details of all the finalists can be found here: https://www.ewif.org/2023-natwest-ewif-awards/
About EWIF:
The EWiF Mission: Our primary focus is to support women who are looking for a route into the franchise industry. Our remit is threefold; to encourage women to consider buying a franchise, to encourage business women to franchise their existing operations and to help franchisors attract more women to their networks. We are a not-for-profit organisation run entirely by volunteers, providing advice and guidance to anyone looking at trying to break into the franchise industry.
About the Revive! franchise opportunity: https://revivefranchise.comthe-business/