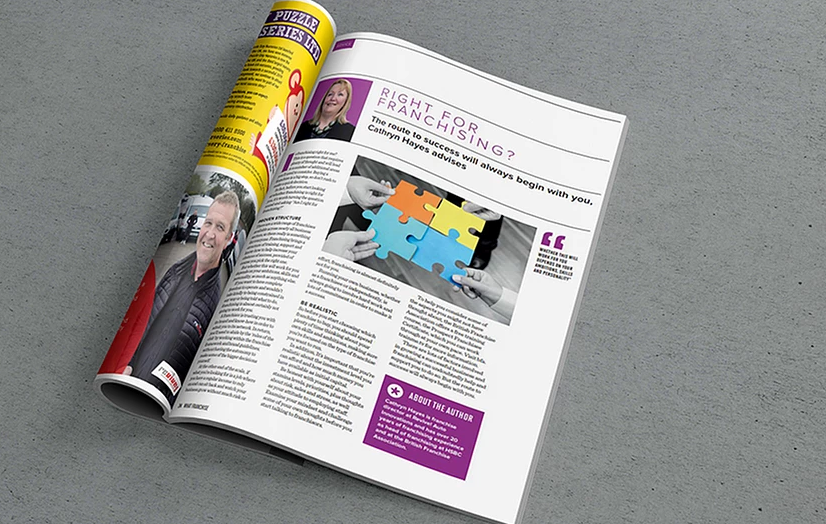 This is a question which requires plenty of thought and which will lead you to a number of additional areas you will need to look at. Buying a franchise is a big step, so don't rush to make a quick decision.
In fact, before you start looking at whether franchising is right for you, it is really worth turning the question round and asking, "am I right for franchising?"
There are a wide range of franchises available across nearly all business sectors so there really is something for everyone. Franchising brings a structure of training, support and know-how to help increase your chances of success, provided, of course, that you pick the right one. But whether this will work for you depends on your ambitions, skills and personality as much as anything else.
If you want your business venture to have complete freedom to operate and would not take kindly to being constrained in any way or being 'told what to do', then franchising is almost certainly not going to work for you. A franchisor is trusting you with their brand and know-how in order to admit you to their network. In return, you will need to abide by the 'rules of the club' by working within the franchise framework and brand guidelines without having the autonomy to make some of the bigger decisions yourself.
At the other end of the scale, if what you are really looking for is a job where you have regular income to rely on and can sit back and watch your business grow without much risk or effort from you, then franchising is almost definitely not for you. Running your own business, whether as a franchisee or completely independent, is always going to involve hard work and lots of commitment in order to make it a success.
So, before you start choosing which franchise to buy, you should spend plenty of time thinking about your own skills and ambitions, making sure that you are focused on the type of franchise you want to run. It is important that you are realistic about the investment level you can afford and how much money you have available as initial capital.
Be honest with yourself about your stamina levels, priorities, your thoughts about risk, about sales and stress as well as your attitude to employing staff for instance. Examine your mindset and challenge some of your own thoughts before you start talking to franchisors.
To help you consider some of the aspects you might not have thought about, the British Franchise Association (bfa) offer a free training course, the Prospective Franchisee Certificate, which you can work through at your own pace. Visit https://bfa.trainme.tv/ for more information.
There are lots of factors involved in growing a successful business and franchising can undoubtedly help and support you to do so. But the route to success will always begin with you!
This article was written by Cathryn Hayes, Franchise Director at Revive! UK and originally appeared in her column in What Franchise magazine.