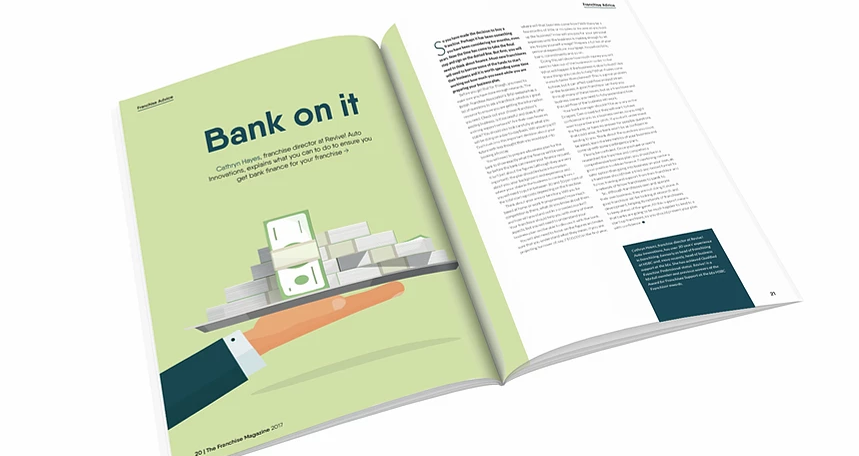 So you have made the decision to buy a franchise. Perhaps it has been something you have been considering for months, even years. Now the time has come to take the final step and sign on the dotted line. But first, you will need to think about finance. Most new franchisees will need to borrow some of the funds to start their business and it is worth spending some time working out how much you need while you are preparing your business plan.
Before you get that far though, you need to make sure you have done enough research. The British Franchise Association's (bfa) website has a list of questions to ask a franchisor, which is a great resource to ensure you are getting the information you need. Check out your chosen franchisor's existing business. Is it successful and does it offer a strong support network? Are their own finances stable? You should also look carefully at what you will be doing on a day-to-day basis. Will you enjoy it? Don't rush into this important decision about your future with less thought than you would put into booking a holiday.
You will need to prepare a business plan for the bank to show exactly what the finance will be used for before the bank can review your finance request. It isn't just about the figures (although they are very important); the plan should include information about you, your background and experience and where your stake in the business is coming from – you will need to put in between 30 and 50 percent of the total start-up costs depending on the franchise.
Think about your area or territory. Will you be based at home or work premises? How much competition is there, what do you know about them and how will you stand out in a crowded market? Your franchisor should help you with many of these aspects, but you will need to understand your business plan and be able to discuss it with the bank.
You will also need to focus on the figures and make sure that you understand what they mean. If you are projecting turnover of say, £100,000 in the first year, where will that business come from? Will there be a few months of little or no sales or income as you build up the business? How will you pay for your personal expenses until the business is making enough to let you to pay yourself a wage? Prepare a fill list of your personal expenditure, mortgage, household bills, loans, commitments and so on.
Doing this will show how much money you will need to take out of the business in order to live. What will happen if the business is slow to build? Are there things you can do to help? What if sales come in much faster than planned? This is a great problem to have, but it can affect cashflow and put strain on the business. A good franchisor will help you through many of these issues, but as a franchisee and business owner, you need to fully understand how the cashflow of the business will work.
Your bank manager shouldn't be as scary as the Dragon's Den crowd but they will want to have confidence in you as a business owner, so you might want to practice your pitch. If you don't understand the figures, or have no answer for possible questions that could arise, the bank wont be as confident in lending to you. Think about the questions you could be asked, learn the key metrics of your business and come up with some contingency plans.
Finally, be confident. Once you have properly researched the franchise and completed a comprehensive plan, you should be in a good position to obtain finance. Franchising can be a safer option than going into business on your own, as a franchise should have a tried-and-tested format to follow, training and support from their franchisor and a network of fellow franchisees to speak to.
So, although franchisees own and operate their own business, they are not doing it alone. A good franchisor will be looking at research and development, helping its network of franchisees to keep ahead of the game. All this support means that banks are going to be much happier to lend a start-up franchisee, so you should present your plan with confidence.
________________________________________________________________________
This article was written by Cathryn Hayes, Franchise Director at Revive! UK and originally appeared in The Franchise Magazine, 2017.