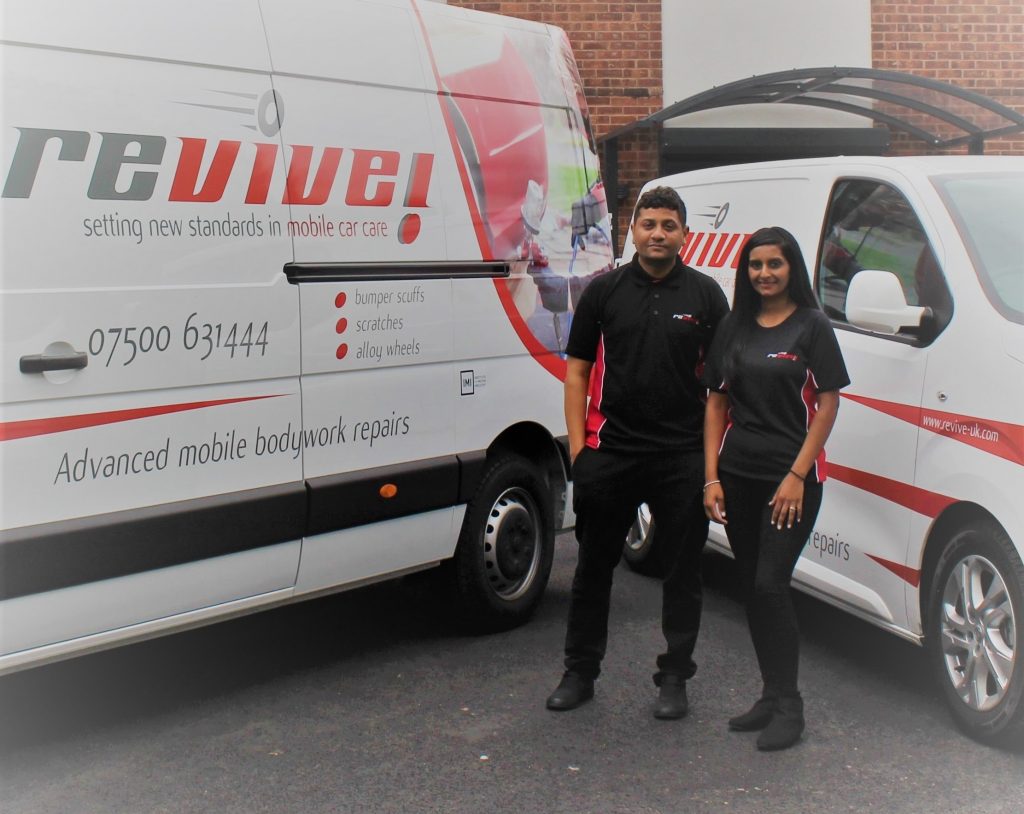 In choosing a career path, sometimes knowing what you don't want to do helps guide the thought process.
That was certainly the case for Jinesh Patel, the new owner of Revive! Gloucester who has set up the new business in partnership with his wife Reena.
With a family background in retailing, after completing his business studies degree at Gloucestershire University, Jinesh was invited to manage his uncle's corner shop in Gloucester.
"But that just wasn't for me. You never switch off from it. It's full on. You're up from 4am bringing in the bread and the milk. Then you open at 6am and you're there until 6pm, six days a week. There's not a lot else you want to do after putting in a 14-hour shift! I am a hard worker, but work-life balance is important. I didn't know what I wanted to do next, but I knew it wasn't that."
He started looking at job opportunities and began his management career in tyre fitting almost by accident. "I was looking for a job – any job – and one of my friends who was already working at Kwik-Fit told me there was a vacancy."
Jinesh applied and discovered he enjoyed the work and the atmosphere of the busy motor trade environment. He was invited to join the management training scheme and quickly became the manager, moving to bigger branches and other companies as his career progressed.
But after eight years of working in the fast fit world, he saw friends all around him setting up their own businesses and doing well for themselves. "I realised I was working here to make someone ese rich!"
Why a Revive! management franchise?
For two years he explored different possibilities –perhaps setting up his own tyre fitting or MOT garage or buying a franchise. A friend was working for a local smart repair company and Jinesh could see the potential. He started looking at available SMART repair franchises, narrowing it down to Revive! attracted by the management franchise opportunity.
Said Jinesh: "I didn't want to be a man in a van, I wanted to build a business. I still didn't understand the Revive! model – would I be out driving a van? , but after several meetings with Cathryn (Hayes, Revive!'s franchise director) and reading through the paperwork I got it. I then started ringing several Revive! franchisees – Birmingham, Glasgow, Aberdeen and Portsmouth – and they were awesome! They were the ones that made me think, yes, I want to come on board. Glasgow told me that lockdown hit almost as soon as their business launched but Revive! gave them constant support throughout and they were looked after well, which was really good to hear."
Persuading his wife was a bigger challenge as she was uncertain about making the big step from being employed to setting up on their own business, but after a few meetings with the Revive! recruitment team she could see the advantages and was happy to proceed.
Reena Patel is an executive assistant to the managing director of a Capita division. With a career spent in financial services she has experience in HR, payroll, and marketing. Her business skills complement Jinesh's motor trade management experience and she plans to keep her job at Capita, which she really loves, until such time that their Revive! business grows to between three and five vans, when she will join Jinesh full time. She said: "My job is already home based so I am putting in an hour's work on our business before I start work and then doing more in the evenings and at weekends. By doing this I can add value for Jai and help save him a lot of time so he can focus on doing the things he does best."
Experience with Revive! so far
Talking about his training at the Revive! Academy, Jinesh said: "It was great. For the week we were there everyone kept helping with anything and everything."
The highlight was a visit to a car shop with the Revive! UK operations director Andy Hupfield to get firsthand experience on pricing up jobs.
"Obviously, pricing is a big factor and something we'd never done before. It's difficult to tell one scratch from another, how deep it will be, does it need filling, and what jobs are feasible and what are out of scope.
"It was a massive car lot with cars for sale, but they also prepared them and pack them. This place was huge! But it was good when we got to see different sizes of damages, where a mark should be blended into another panel and other subtle things which was really educational and complemented everything else we had learned that week.
"Walking around the lot we saw cars with five or six areas of damage on one car, so imagine when you've looked at about 20 cars with an expert walking around every corner of the vehicle and showing you what to look for – you start getting a really good idea of what each area of damage would cost and what you'd need to do to fix it. Just brilliant!"
Plans for growth
So, what plans do the couple have for the future? Growth is top of the list. The Patels opened their business at the end of July 2021, and by the end of the first week Jinesh had already secured a weekly on-site contract with two independent Gloucester dealerships.
"I just wandered into the dealerships nearby, found out who I needed to see, introduced myself and got the business."
Said Jinesh "I am not exactly sure yet which way I want to go – either down the workshop route or build the business to five vans, then train up a tech to become a team leader to manage those five and then go for another five tecs.
"The most important thing for me is to maintain a good work-life balance so I'm not going to rush into anything until I see how the business pans out."
He believes the key to success will be keeping a happy workforce and giving five-star customer service. Through his previous management experience he learned that different people have different ways of working and are motivated in different ways. "It's all about knowing what makes a person tick and what makes them happy. Some people need constant attention and interaction, whilst others prefer to just get on with the job. Building a team is important – I want to create a family atmosphere here and plan to hold regular team breakfast meetings and the occasional lunch out."
Making things as easy as possible for both their customers and staff is the Patels' aim. "For retail customers their car is probably the second biggest purchase they are likely to make, and we have to appreciate that by showing respect to both them and their vehicle. When it comes to dealerships at the end of the day it's all about being consistent, turning up on time and doing a good job."