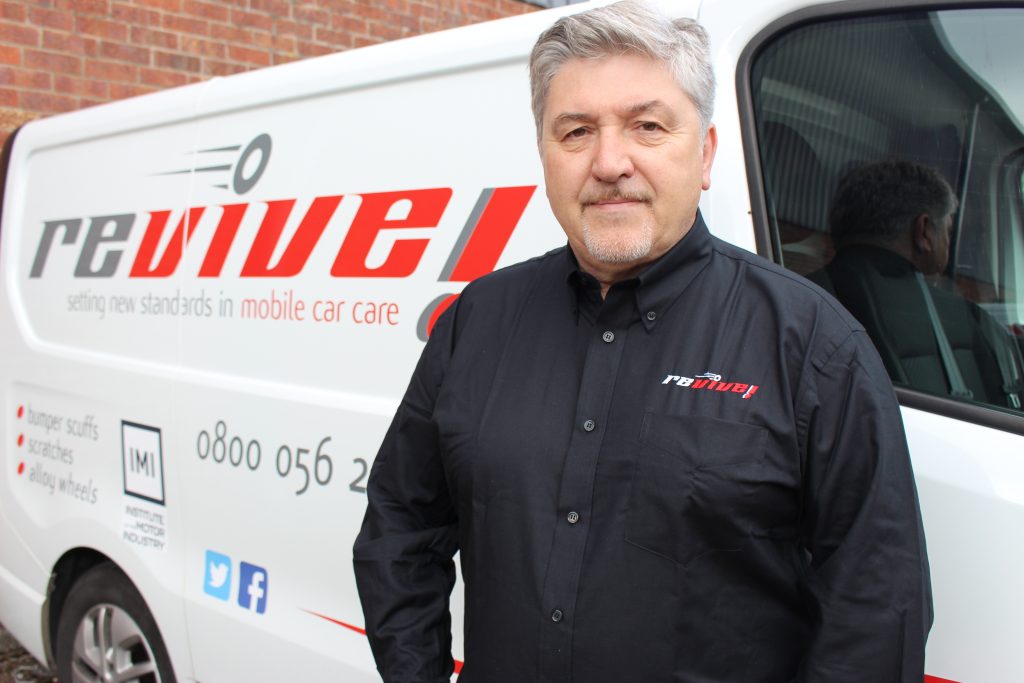 What can be the deciding factor when choosing a franchise?
For some it might be the brand, industry sector or start-up cost – but for Tony Barker, new owner of Revive! Bedford, it was Revive!'s four company values of Integrity, Outstanding Customer Service, Technical Excellence and Unity that sealed the deal.
Having spent over 30 years in corporate life, he previously held a cynical view of buzz phrases. He explained: "I've had experience of corporations large and small and not one of them had or believed in any values – or if they did, they were gibberish, absolute tosh."
But his view changed completely after spending just a few hours with the Revive! Head office team as part of his fact-finding journey. "You get to meet the people and understand the company's values, and that gives you a warm fuzzy feeling. It's quite clear when you talk to anyone at Revive! that culture is a massive focus for them and it's a big part of why they are so successful. It is not by any means a 'get rich quick' scheme, it is a solid business.
"Meeting the HQ staff and realising that they actually do live those values was one of my main decision factors. For example, in response to a point raised by someone in our training session, the Revive! trainer said 'that doesn't meet our values. It doesn't mean integrity; it doesn't mean excellence. They are clearly people who believe in what they do and I am already instilling those four key values into my own Revive! technician team now."
At 63, Tony was at a crossroads. He began his working life as an engineer in the aerospace industry and loved it, but reluctantly moved into commerce when he realised that there wasn't a lot of money to be made in aircraft R & D. Since then, his career has been spent in senior international roles within the commercial interior's world, most recently as new business development director for a multi-billion-dollar American organisation.
When COVID struck, he was put on furlough for a short period, which gave him time to take stock. "I just thought, I am literally wasting my life," said Tony. "In such a large company you have no self-determination at all. I was on the train at 7am every morning not getting back until 8.00 at night, the usual corporate blah, blah, blah. I guess I was suffering from corporate burnout and was at the age where if you don't make changes now, you're going to have to stay until retirement."
So he left his job with an attractive exit package and looked realistically at his options. He explained: "I have built businesses, created brands and done some major hard work on taking businesses forward, but I know at my age I haven't got time to create a brand or a business that's got scale. Franchising appealed because the brand was there, the system was there, and you don't have to re-invent the wheel."
Choosing the right franchise was key. "I looked at franchises for a long time and you've got to kiss a lot of frogs before you find your prince!" laughed Tony. "It's not that there were bad franchises out there, but most were all as dull as ditch water and didn't interest me at all. I didn't want to get involved in commercial cleaning or run a care home."
Because of his engineering background and love of cars, he turned his attention to the automotive sector. Tony continued: "Revive! attracted me because the proposition was to be the owner of a scalable business rather than a man in a van operation. The start-up costs were acceptable, and it was something I could actually run and turn into a business with value whilst at the same time be part of an industry I was interested in."
Tony's father worked as a chief aircraft inspector until he was 78 and he has a similar philosophy when it comes to how long he wants to work for. "I'm pretty young at heart and have a young family. I'm not into this whole age thing – If you want to you can get on and do it." The plan is to build Revive! Bedford to a five-van operation within five years.
Looking beyond that, when the time comes to renew the franchise contract, Tony hopes that his son who will be 18 by then might want to join the business as an apprentice. "I'll get him in a van, train him to paint and let him work in the business. Probably two and a half to three years after that, so eight and a half years from now, I will start schooling him to take over the business."
Whatever the future holds, Tony is relieved that he's taken back control of his life and looking forward to building a business for himself and his family.