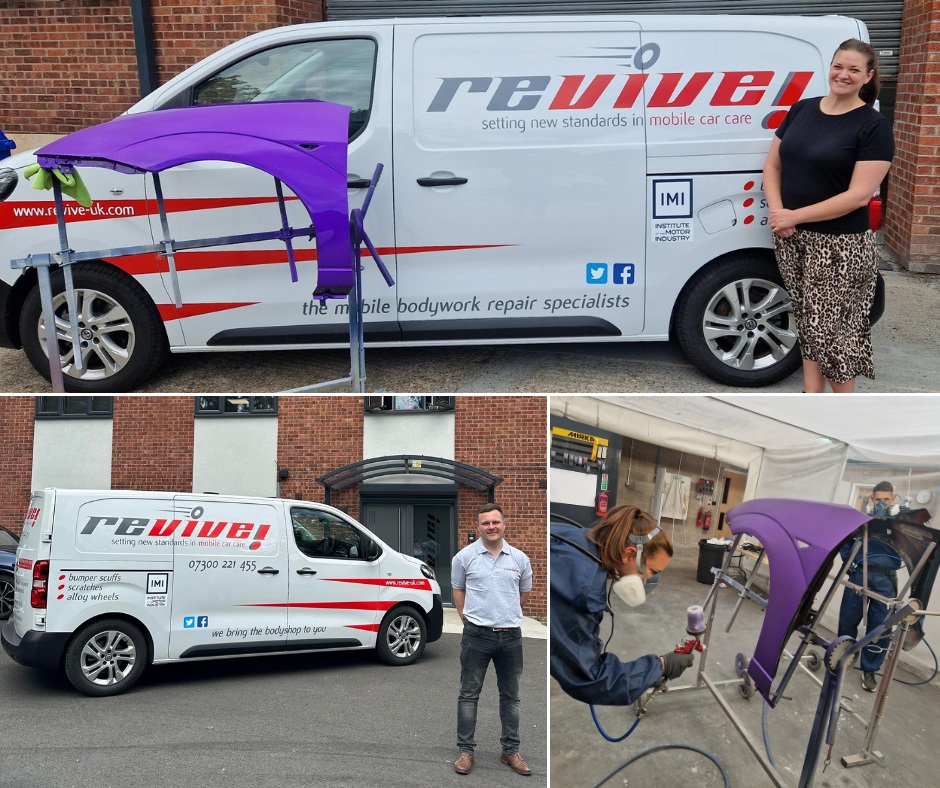 For Martyn and Carly Traber buying a Revive! franchise was all about restoring their work life balance.
With Martyn managing a local hotel, and Carly working in a coffee shop, having a whole weekend together was almost impossible – but now after launching Revive! Plymouth they are looking forward to enjoying a family Christmas Day– for only the second time in ten years!
And it was just before Christmas last year that the couple decided to look for a business opportunity that would allow them to take control of their own destiny and spend more time with their two young children. They researched several franchises, but none felt right. Then randomly a Revive! advertisement popped up on Martyn's Facebook feed.
"It seemed meant to be," he said. "I didn't have any interest in automotive things and the posts I had been looking at had nothing to do with cars, but suddenly there was Revive! and I started looking into it.
"I've always wanted to do something on my own or run a business with Carly. Over the years I've looked at various opportunities, whether it be in hospitality or other things to make my work life balance better. I was working a lot a lot of weekends and evenings in hospitality and my hours became even longer after COVID with staff shortages.
"The birth of my son gave me the kick I needed to really go out there and get looking. I wanted to make sure that I could always be there to take my children to football, swimming or ballet or whatever on the weekends, not just sometimes. Now thanks to Revive! I've got my weekends back."
The Facebook ad came at just the right time. Martyn explained: "We went down recruitment processes before but they either didn't work out or I didn't want to do what the business was. Then I found Revive! and it had lots of 'goods'. Lots of good reviews and obviously lots of recognition for the franchise side of it."
Carly picks up the story: "It was nice and slow. We liked the fact that Revive! were vetting us – they were being choosy with us just as we were being choosy with them. With other (franchisors) we had spoken to it was all about 'give us your money' but for Revive! we had to go through several interviews and were encouraged to do our own research. We weren't rushed at any point – it just felt right with trust building on both sides."
She took part in every aspect of the training even painting cars: "In the past I had just dropped the car off at the bodyshop and left them to it so had no idea about what was involved! I knew it was extremely technical, but to see the whole process firsthand and see how particular you've got to be was really helpful." She joked: "I'm a bit slapdash so I don't think I've missed my calling to be a technician, but it was really good to see the process of everything."
Having worked in the hospitality industry, the couple are used to hard work and long hours but their new Revive! business has given them the flexibility they didn't have before. Said Martyn: "Now I can I stop work at five and carry on at seven if I want. Although you have to work hard you can adapt when you work around your family, which is important."
Business is already booming for the Trabers. The diary is fully booked for weeks ahead, and they are hoping to take on another tech soon to cope with the increasing workload.
Longer term the plan is to grow the business to four vans and have a static workshop and after that.
Said Martyn: "There's so much potential in this part of the country we will probably consider buying neighbouring territories further down the line. We're looking at a bright future!"