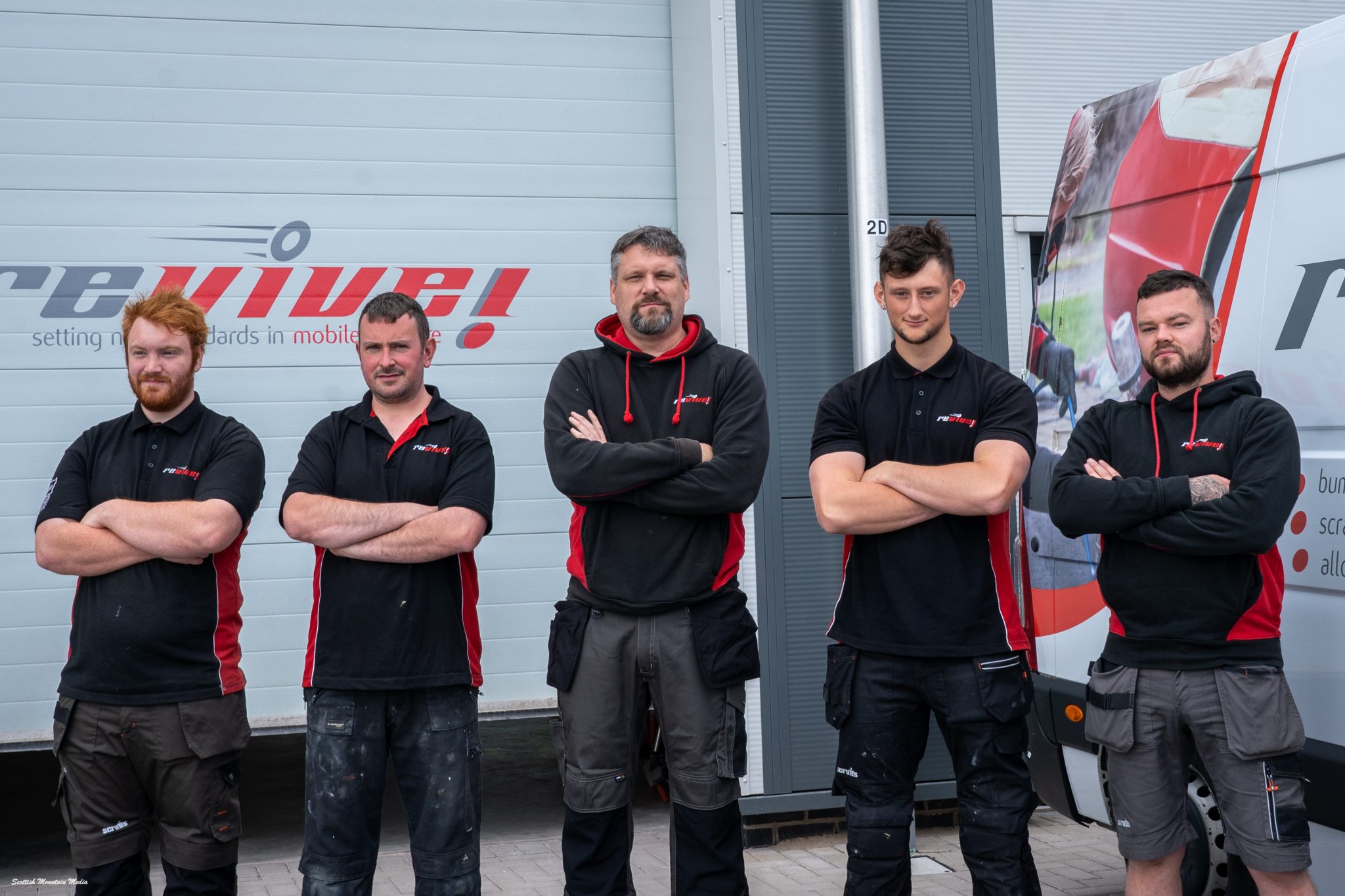 In just twelve short months, Tom Giles, owner of Revive! Aberdeen has taken on two more technicians, added another van and bought an industrial unit!
He only has two regrets. He wishes he had gone down the franchising route sooner and started the business with three vans instead of two.
Getting started
Born in Canada, Tom has a degree in petroleum engineering and spent all of his working life in the oil industry, moving to Aberdeen 24 years ago.
Before launching Revive! Aberdeen, Tom was UK operations manager for a major drilling company and travelled all over Europe. When the pandemic hit, he was told to make half of his 57-strong team redundant, a task he hated and the 'straw' that finally 'broke the camel's back' for him. It was time to leave and find a new challenge.
Explained Tom: "It was just the worst time. Having to let really good, talented people know by Zoom that they were going to lose their jobs didn't sit comfortably with me.
"I was working very long hours and felt like I was on a constant hamster wheel. My work-life balance was terrible, and I just wasn't enjoying it anymore."
His application for voluntary redundancy in the second round of job cuts was successful, leaving Tom free to research franchise opportunities. After extensive research he chose Revive! Auto Innovations, completed his initial training and launched Revive! Aberdeen on 29 March 2021.
Why Tom Chose Revive!
He said: "Revive! came top of all the internet searches I made, and the more I read about the company the more impressed I became. Without the pandemic I probably would never have left the oil industry and not had the chance to start a whole new career as my own boss doing something I love."
As a life-long enthusiast owning many cars since he moved to Aberdeen, Tom always found it hard to find skilled repairers to carry out cosmetic work on his vehicles. He concluded there was a need for a top-quality SMART repair service in the area – and so it proved.
Demand from the general public was far greater than he expected, as the mobile aspect of Revive!'s service was particularly attractive during the pandemic. All work could be carried out socially distanced on the customer's driveway.
Recruiting Technicians
Revive!'s management franchise model is built around starting with two technicians and two vans, but within a few weeks Tom's team was working at full capacity – so the hunt was on for a third technician and another van was soon added to the fleet.
The recruitment of quality technicians has been the greatest challenge for Revive! Aberdeen. Said Tom: "Finding the right people is very difficult – but everyone you speak to will tell you the same thing. It doesn't matter what industry you're in, there's a skills shortage everywhere."
But sometimes enforced delays can bring unforeseen advantages. In Tom's case, an experienced local repairer decided to wind up up his own bodyshop business and look for a job without the hassle of managerial responsibilities. So, after months of looking for one technician, Tom seized the opportunity to employ both the owner and his apprentice, increasing his team from three to five in one fell swoop.
Ongoing Training
Managing a growing business can be challenging, which is why Revive! head office provides award-winning support to franchisees at every stage of their journey, including an ongoing training programme.
"Every few weeks there is a franchise meeting," said Tom. "We have a Zoom get together for all the franchisees at a similar stage to me – those who started around the same time. A member of the Revive! training department sits in on the sessions and they hear whatever we need and give us training accordingly. We've had a lot of training on social media and sessions on how to use Google to bring in more sales leads."
Building a Team
No stranger to building teams, Tom's management style is to give his technicians responsibility which demonstrates his trust. "Often, I'll meet them while they are at a job to see how they are doing and even if I just make them a coffee or clean up after them it shows that I'm not just sitting in an office somewhere telling them what to do. They are involved in the business and want to help it grow. If they want extra training, I'll arrange that for them through the Revive! Training Academy.
"We have our own WhatsApp group where we upload pictures of finished jobs. We praise each other on that group and they're proud of what they do. I can recognise their performance mostly by their revenue as they earn a bonus for each job they do. They are naturally hard workers and there's a bit of rivalry between them. At Revive! we have our own app and it's on each of the technician's phone. They can see their revenue for the month, so they are always trying to beat each other!"
Outstanding Customer Service
Having a happy and motivated workforce is a key element in delivering high levels of customer service. At its annual conference each year, Revive! holds an awards dinner to recognise and reward outstanding franchisee performance. For 2022, Revive! Aberdeen scooped the bronze award in the customer service category. Said Tom: "Most of our business comes from recommendations, and we were proud to win an award at our first Revive! conference.
"One of our key achievements has been to get the Enterprise Rent-A-Car contract for our area. We had to invest in additional equipment and meet their service level agreements (SLAs). One of the SLAs is to repair each car within 48 hours – our average is 16!"
Plans for Growth
Tom's single aim is to grow a large profitable business and having a unit where repairs could be done inside in all weathers quickly became part of that plan. "Back in July last year I looked at various places to rent in Aberdeen, but a lot of them looked as if nothing had been done to them for years. You got the feeling that that your customers would drive up to them and then just keep on driving! So I decided to go down the route of buying premises with part of my pension and invested in a brand-new unit in the perfect location just on the edge of the Aberdeen bypass."
Although it took far longer than he expected, Tom now has the keys to his new property and the shop fit has started. With a fourth van due to arrive in September the future looks very bright for Revive! Aberdeen.
Is the hard work worth it?
Looking back, is the reality of running a Revive! Business as he imagined? "I knew it was going to be hard, but it's been harder than I thought it would be with all the recruitment issues and hassle around getting the unit sorted out. There's definitely been some low times but, looking back at where I was before and where I am now, it's all been worth it.
"In my previous life I was on call all the time and used to take calls at all hours. I started work at 7am and didn't finish until 7pm. I still work long hours, but I'm at home which makes a huge difference and I'm strict about not answering the phone after 6pm or on weekends. I'm with my family a lot more now and it's great to be around for when my son Caleb gets home from school. Even our Cypriot rescue dog Roman gets to ride around with me in the car when I'm out quoting for jobs!"