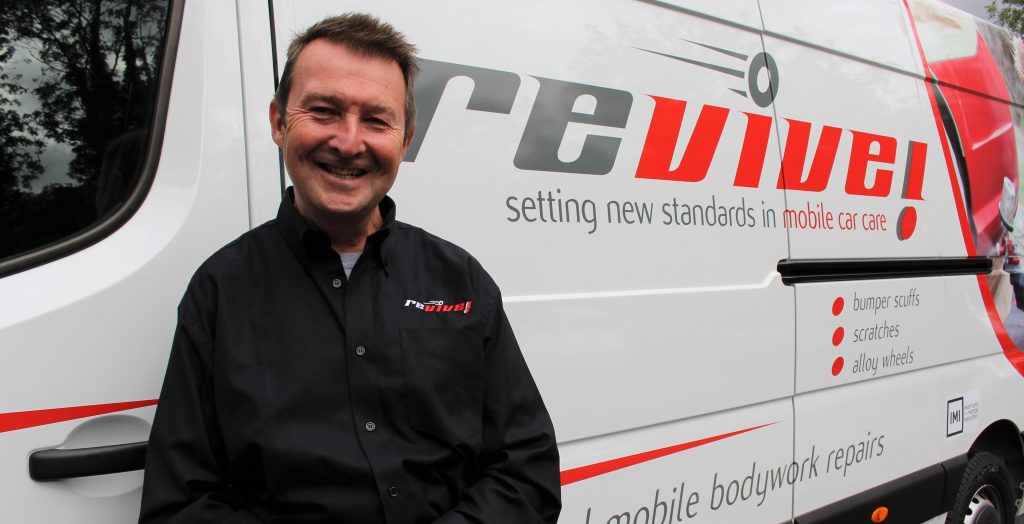 According to sales operations and business development specialist Steve Bartley, Revive!'s bespoke CRM system is better than any other system he has experienced
Steve is the new owner of Revive! Farnham. He was introduced to the tablet driven CRM app designed in -house by Revive!'s own IT department during his training week at the franchisor's headquarters complex in Rugby. He explained: "I've used Salesforce, Sage, HubSpot and numerous other systems during my 25 years in sales. And they're all pretty clunky. Even Salesforce, which is the world leader. This one is a really good one. It does what it says on the tin and It's great!"
When Covid struck, Steve was working in sales for a company specialising in delivering digital IT solutions to the retail environment, providing interactive touchscreens and support to international retailers including Fortnum and Masons and Marks & Spencer's. The retail sector was one of the most badly affected by the lockdown. He said: "Our revenue dropped off a cliff, probably 80% overnight. I was working from home. I was actually working twice as hard as I've ever worked before for half the money, trying to keep the lights on for my team and it got me thinking there's more to life than this."
Then he was furloughed and began to explore routes out of the 'precarious' retail sector. "I actually started applying for other jobs and I was well down the interview route. I had a couple of tentative offers and I thought, do I really want to go back into that corporate world? At the same time, I had been looking at the franchise option. I came to this moment when I'm like what on earth do I do? Do I carry on or do I do something that I've been hankering after for 10 years?"
His turned his focus to franchising. With so much international business experience and an MBA under his belt, Steve Bartley approached this decision with a professional, forensic eye.
"I had no emotion at all about it," he said. "I wanted to find what I thought was a) a good organisation with a good opportunity to grow and scale and b) an organisation that I thought I could fit into, because I'm going to spend at least the next five years doing this and I need to be happy."
He spent six months researching franchise opportunities. He discounted the food and beverages sector and anything that involved retail premises. Said Steve: "The idea of being tied to a shop all day long didn't appeal to me. What struck me about the Revive! model was that not only did it suit my skill set, it was also very scalable."
Steve carried out due diligence on several franchises including Revive! and spoke with the head of franchising for a major high street bank. "My brother-in-law worked for the bank, so he gave me the introduction. I wanted to identify ethical franchises and franchises that had a good reputation for supporting people. This head of franchising gave quite a glowing account of Revive! versus other organisations."
And Steve's own recruitment journey bore this view out. "I met with all of the directors and spoke to head office staff. Revive! felt more like a large family firm rather than a hard-nosed corporate where you're just a number."
So, he decided to go with Revive! and resigned. "Yes of course it was a risk, but I'd rather try and build something for myself than get another well paid job that might still be a nightmare. If I do this right, within five years I could make as much money per year as in corporate life anyway."
As the franchise territory is in in a prime commuter area, Steve plans to focus his efforts initially on the retail side of his business whilst at the same time building up relationships with local dealerships. He explained: "A lot of the people living here are cash rich and time poor, so a service that can come to them will do well."
As you'd expect from a man who has driven sales and managed business development his whole working life so far, Steve has ambitious plans to grow Revive! Farnham to become a five-van business within three years – all managed through the Revive! CRM app!