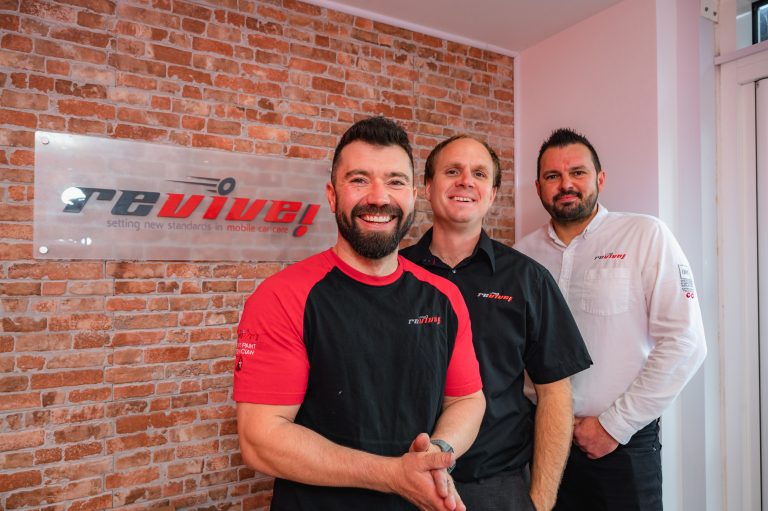 When he launched Revive! Cambridge in 2007, Nathan Holmes had one single ambition. To build a business not just be a 'man in a van'. Now 15 years on, he is the major shareholder in Revive! East Anglia, with a property portfolio and a business employing 16 people, running ten vans and two workshops.
By 2012 when he had smashed every Revive! sales record and built his fleet of vans to five, Nathan decided the time was right to take Revive! Cambridge to the next level. He invited employee Andy Blackhurst and good friend Adam Holmes (no relation) to become shareholders and join him in the business and together they bought adjacent territories to create Revive! East Anglia.
Then came success after success for the trio. Revive! East Anglia was the first in the network to turnover £1m. They doubled the number of vans on the road and opened opened a static workshop within the EMG Group dealership's Cambridge site in 2013. A second larger 6,000 sq ft workshop unit was purchased in 2018.
Nathan, Adam and Andy have just renewed their franchise agreement with Revive! The future is looking bright as they move closer to their turnover goal of £2m. Over the past year they have invested heavily in diamond cut wheel repair equipment buying two specialist wheel vans and installing a diamond cut lathe in their new workshop which is perfectly located on the outskirts of Cambridge.
Over the past 15 years there have been so many highlights for Nathan and his fellow directors. In addition to winning awards at every Revive! annual network conference, in 2016 Revive! East Anglia was named overall Franchisee of the Year and won the Customer Services Award category in the prestigious bfa HSBC Franchisee of the Year Awards.
Said Adam Holmes; "Winning the bfa Franchisee of the Year has got to be up there in the highlights. Not just for us as a management team but you can't win a customer service award without all the guys you've got working for you. It just shows what level of care and repair we are delivering.
"Another standout moment was being the first million pound business. When we first started it really was a man in a van operation. Fifteen years ago you maybe had three or four vans on the road and perhaps did £200,000 a year, but to suddenly get to that milestone was massive. We really need to push on now and try to be the first £2m Revive! business."
Adapting to the ever-changing marketplace is one of the keys to East Anglia's success. Covid helped to drive up retail sales, whilst the shortage of new cars led to dealerships focusing more on the second-hand market with older vehicles on the forecourt needing more repairs. Electric vehicles will become an increasing part of the team's workload. Said Adam: "for anybody in the repair industry the next five or ten years are going to be massive, but after all whether it's a Tesla with all these fancy bits or an automated car, they will still get crashed, still get scrapes, still need to be repaired. It will business as usual – we just have to make sure that we keep up to date."
And that's where Revive! head office comes in. As the individual territories grew, Revive!'s head office team has constantly evolved and adapted to ensure they continue to stay ahead of the industry technology and meet the needs of each franchisee.
The team at East Anglia value the level of support and training they have received from head office over the years, particularly with IT. Revive! HQ has its own IT department which developed the Revive! app and tablet and a bespoke management information system (MIS). This technology gives franchisees all of the tools they need to automate the administration of the whole repair process from quotation to invoicing together with up-to-date business data and performance statistics.
So what motivates the team at Revive! East Anglia to do better and better? Just one thing – healthy competition!
Monthly sales figures for every Revive! territory are shared by head office with the network. East Anglia keep a keen eye on their fellow franchisees performance and always want to be ahead. Explained Adam: Revive! has a great franchise model and everything else that goes with it, but sometimes it's that drive of competition that makes you want to be the best. Whether that's being the best with customer service or quality of repair it's competition from the network that motivates us to be always at the top."
Summing up Nathan observed: : "When I first set up the franchise I had ambitions to build a bigger business and now all those years later I am very proud of the successful, award winning business we have become.
"The support we have received from Revive! head office and the quality of training we have been able to access as part of the network have played a big part in helping us get to where we are now. Revive! is a fantastic brand and we're proud to be part of it."