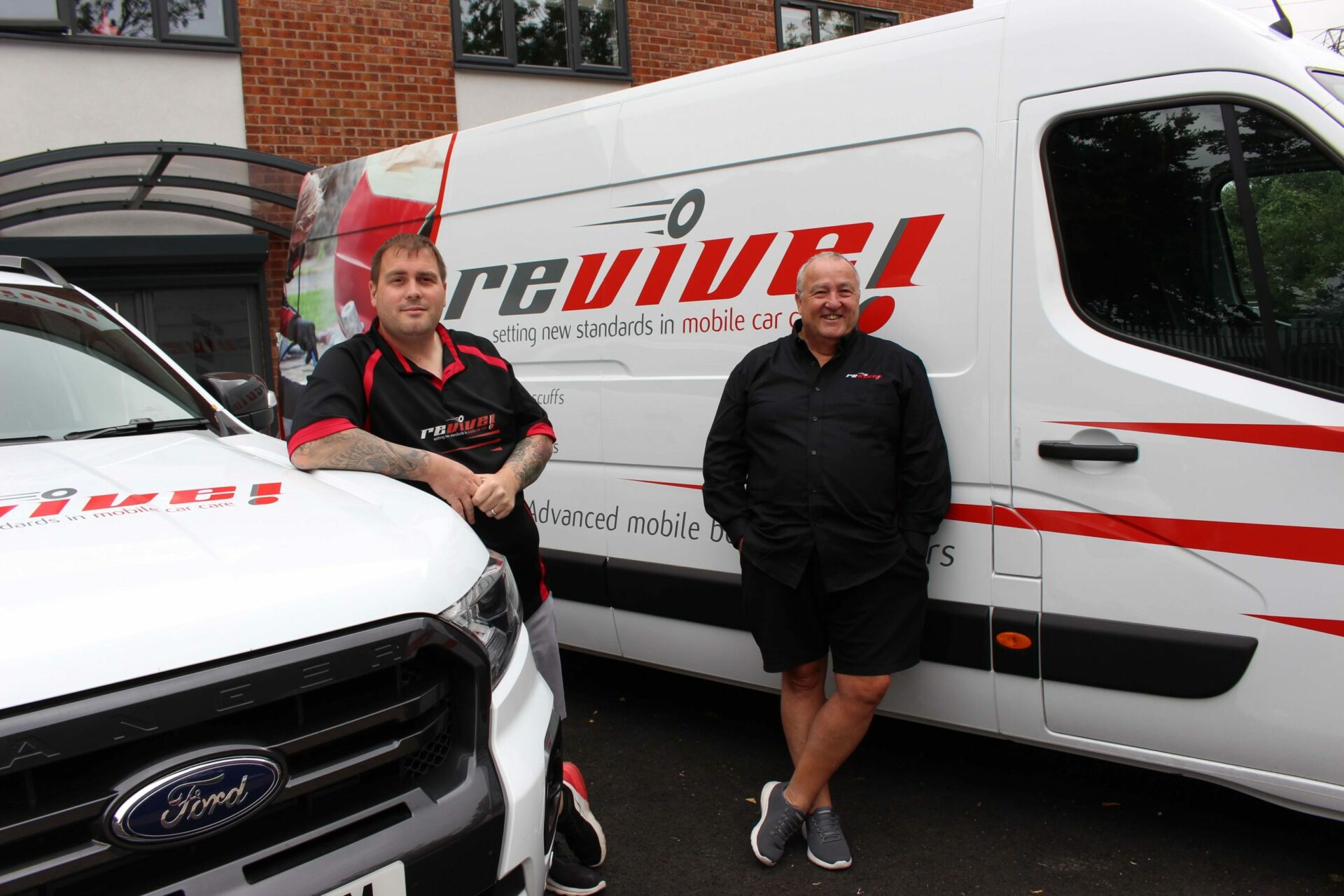 With such complementary business skills, it made complete sense for father and son team Anthony and David Tinsley to join forces and become the new owners of Revive! Cardiff.
But it wasn't always that way.
Dad Anthony started out as a professional musician and even played guitar in his own rock band, Raw Prawn before going on to study for various business degrees at college. He was Chief Executive of one the first 50 PLCs to be set up in Wales and from there went into a successful business mentoring career.
Meanwhile son David had his heart set on acting. He studied drama at college and was offered a place at RADA, but then a hereditary leg condition dealt a savage blow. He needed reconstructive surgery involving multiple operations and as RADA demanded 90% attendance he had to give up his place. With the door closed on a stage career, David refocused and went into sales, working in business development and client relations in various large organisations.
Fast forward to 2019 and the pandemic. Both men were at career crossroads. Anthony by his own admission at 63 'wasn't getting any younger' and David was becoming tired of contract work but didn't want to go back into full time employment with another company, spending hours in a car on the motorway making money to 'line somebody else's pockets'.
A secondary motivation for Anthony was to put his own business mentoring skills to good use by helping David build something for his family's future. Anthony explained: "I'm there to help him along the way, to develop his own business skills, and with his own sales and communications skills we could see it would work."
So what should the business be? The men had looked at franchising as an option in the past but couldn't find one that appealed.
Anthony takes up the story: "Most of them seemed to be some sort of cleaning business. Considering the career backgrounds we both have, without sounding snobby about it, it felt a bit demeaning to have to jump up ladders cleaning other people's gutters out! We didn't want to learn to be tradesmen – we wanted to use the skills that we've got."
Then suddenly the Revive! opportunity caught Anthony's eye. He had an exploratory call with Revive! Franchise Director Cathryn Hayes which gave him the confidence to find out more about the opportunity and bring David into the discussions.
" The thing with Revive! is that it is a management franchise. You're the business owners, you take care of the business and you employ experts to do the real work that is entailed. So that was a good fit. And obviously we wanted to make sure we went with a company that would give us decent back-up. And what Revive! did was to give me the confidence that they will do that."
So Anthony and David bought Revive! Cardiff and went to Revive!'s headquarters for training.
What was the best bit about the training? " For me it wasn't just about the training," said Anthony. "It was what they're able to provide in terms of assistance on certain things. Not many organisations can offer the level of IT systems that Revive! have or provide access to people to help you with things like social media, dealing with dealerships and everything else besides. It all seems to be a well oiled machine that helps drive the business forward. It was good to know that the training we were being provided with was backed up by all of that."
Added David: "If we've got a question, it gets answered. An issue, it gets worked out and resolved. The team are in touch regularly and I know if I need help with anything, Revive!'s there. I'm not great with technology or things like social media but if I drop an email to the IT or marketing department, I know within a day we're on a zoom call to sort it out."
The Revive! startup model is built around opening with two vans and two technicians, but the Tinsleys had two vans and THREE technicians. Finding good technicians was proving difficult so when three came along they decided to bite the bullet and employ all of them, safe in the knowledge that work was already beginning to flood in.
As you would expect from a team with such a rich business background, the plan is to expand the business as quickly as possible across South Wales by adding vans and acquiring neighbouring territories of Newport, Swansea and Bridgend. Said David: "We had decided that we were going to add our third van early in the new year anyway, so it made sense to have a fully trained tech ready to go as soon as the van arrives."
It's not just their complementary business skills that seem to be working for Revive! Cardiff. The father and son ''vibe' is also proving to be popular, with 25 five star trust pilot ratings under their belt within just a few weeks of trading. Explained David: "We have both got pretty good hit rates in terms of courting the customer and closing the deal. Older customers seem to identify more with dad whereas I find my more direct approach with younger customers works well for me."
When it comes to defining roles and responsibilities, the duo has allocated tasks depending in individual strengths and expertise, but sensibly decided that the aim is for David to understand every aspect of the business for the day, when as Anthony puts it, his batteries 'run out'.
As father and son they have always got on well and are looking forward to building a profitable family business to hand on to future generations.