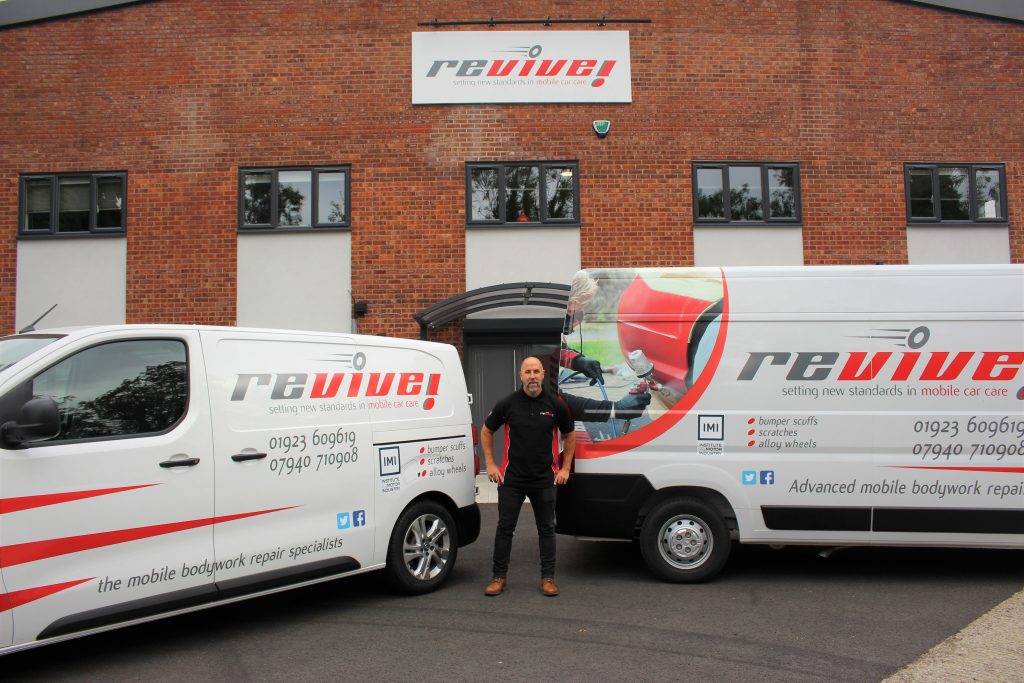 Tim Byrne, new owner of Revive! Watford is sitting in his home office feeling happy and relaxed. Just two weeks on from the launch, he's got the 'buzz' back for work and enjoying being his own boss at last.
The former AutoRestore regional manager explains: "It's something I've been wanting to do for so many years. It's just nice to be out of the corporate world and do things the way I like to do them and it feels good. It's great to be able to enjoy what I'm doing again."
"I've always wanted to run a business and be in control of my own destiny, so this was a brilliant opportunity. I could have started Tim Byrne mobile repairs, but with the Revive! brand, the structure that comes with it, the values, people, the support – just everything about it made the decision a no brainer for me."
Tim has spent his whole career in the bodyshop industry, starting as an apprentice panel beater and sprayer straight from school at the Vauxhall bodyshop in Essex . Returning to North London, he worked at a series of small independent bodyshops where he learned every aspect of the trade before joining AutoRestore in 2006.
He rose quickly through the ranks at the mobile body repairer ultimately managing a team of 45 people.
But in June 2022 he was made redundant following the sale of the company and its subsequent demise. His last six months had been very difficult as he faced an uncertain future.
Tim first met Revive! joint managing director Mark Llewellyn ten years ago when he was offered a job at the Revive! training academy, but with a young family settled in London the time wasn't right. But thoughts of Revive! and the possibility of running his own business one day were never far from his mind so he signed up to the Revive! mailing list.
Says Tim: "There was just something about Revive! I had been on the mailing list for all these years and kept seeing the emails coming through with photos and franchisee success stories.
"At AutoRestore in November, all four regional managers were put at risk of redundancy. And that was a point where I thought, I'm not valued anymore. On the day we got told I couldn't sleep. I'd never been in a position where my job was at risk and my whole career could be gone. I was sitting here in my house wondering how I am going to pay for it?
"That same night I woke up at 4.00am and saw another Revive! email come through. Then I watched a lot of Revive! Videos on YouTube and told myself – 'just do it'. So, I got in touch with franchise director Cathryn Hayes to ask for a prospectus and haven't looked back since. I just love it."
He didn't look at any other franchise opportunities before deciding to go with Revive!: "There was no need to research anyone else, because I'm in the industry myself. I know all of the other companies, and people that have worked for me worked for them. I like to think I am a good judge of character and with Revive! I never once felt like I was being 'sold' to. I saw that the business had a clear set of values which they genuinely live by – just like me.
"It was crazy juggling a job and setting up a business at the same time. I thought I would be out of a job but never expected AutoRestore to go under."
He employed two of his former technicians who had also been made redundant. Their last day was just six days before they began their training at the Revive! training academy in Rugby!
At the Academy although the Revive! Watford team was already very experienced in SMART repair techniques, they learned a great deal – and started the process of getting to know their Revive! HQ support team.
Says Tim: "I've got a lot to learn about running a business. One thing Mark Llewellyn said to me has really stuck- 'you are no longer a manager you're a businessman' and that's what the support and training will help me become."
Treating people right is important to Tim. He's worked for managers both good and bad and the experience has left a big impression on him.
"I'll never forget one of my first managers – he was horrible – like an angry dictator. I thought to myself, one day I'm going to be a boss and I'm never going to be that guy.
"Then I go back to the days when I was a 19-year-old sprayer in a side street bodyshop. All it took when I walked out of the workshop at eight o'clock at night when there was nobody else there but the owner was for him to say, 'thanks Tim, I really appreciate it' and I'd be in a 6am the next morning, all because he said thank you.
"I've always been a manager that I would want to work for. Now I want to be a business owner that people want to come and work for because it is a great place to work. From a customer perspective I want to be that business owner who talks to people with respect, does what he says he's going to do, is fair and delivers high quality."
The business is going well, and already Tim's thinking about adding another van. He's been inspired by top performing franchisees in the network and is aiming high. He wants to have a 10-van business with a workshop unit within five years: "I want it to be a big enough business but still one that feels like a family run business."
So, what does success look like for Tim? "It sounds materialistic, but I've always wanted a Porsche." He explains: "Since I was a kid, I wanted to get to a point one day when I could buy one because I've built a business where I've worked hard and my people are doing well too. I want to make my own luck, create my own future and help others have a nice working life. I would love to get to a stage where people are queuing up to come and work for me.
"I want to build a business for my family – which is why I've named the business KA Byrne because my children are called Kyra and Alex. I'd love to be able to get to the point when they run it or just take over.
"It's not about having lots of money; it's about having a good life. Just knowing that my kids don't go without. If we can move to a bigger house one day so they can have a bigger garden and things like that. For me running Revive! Watford is all about family, being healthy and enjoying life. I want to live not just exist and go to work."